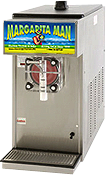 Fiesta Party Package
THE BASIC
$190
1 frozen drink machine mounted on a cart with a black cloth skirt
1 free drink mix concentrate. Additional mixes are $25
(No charge for mixes returned unopened)
50 cups and straws
The delivery person will demonstrate how to operate
the margarita machine, and leave written instructions.
No cleaning! when the party is over,
just turn off the machine!